Notice of the start of distribution of the Adachi Flower Trip Guidebook [From Saturday, March 19]
Notice of the start of distribution of the Adachi Flower Trip Guidebook [From Saturday, March 19]
March 18, 2022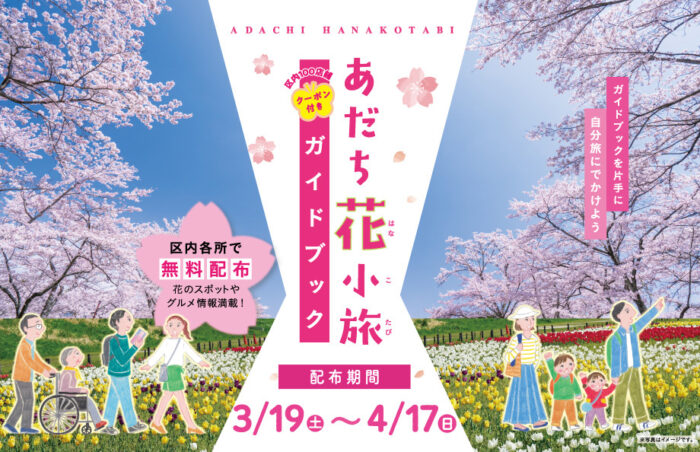 A small trip around the flowers of Adachi with a guidebook
Why don't you pick up the "Adachi Flower Trip Guidebook" as a companion for a small trip to freely visit flower spots such as cherry blossoms and tulips while feeling the arrival of spring.
We introduce the highlights and restaurants in each area of Adachi City, so you can easily go out alone or with your family.
In addition, the gourmet guide comes with a coupon and you can receive the service as many times as you like during the period.
Why don't you go around Adachi City with this guidebook in your hand?
Distribution period: From Saturday, March 19 to Sunday, April 17, 2022
【Notice】
When you go out with the Adachi Flower Trip Guidebook, please cooperate to take appropriate measures against infectious diseases in response to the request of the country, city and ward.
* The content of the implementation may change depending on the state of the new coronavirus infection.