【結果発表】「第6回 足立区街フォトコンテスト」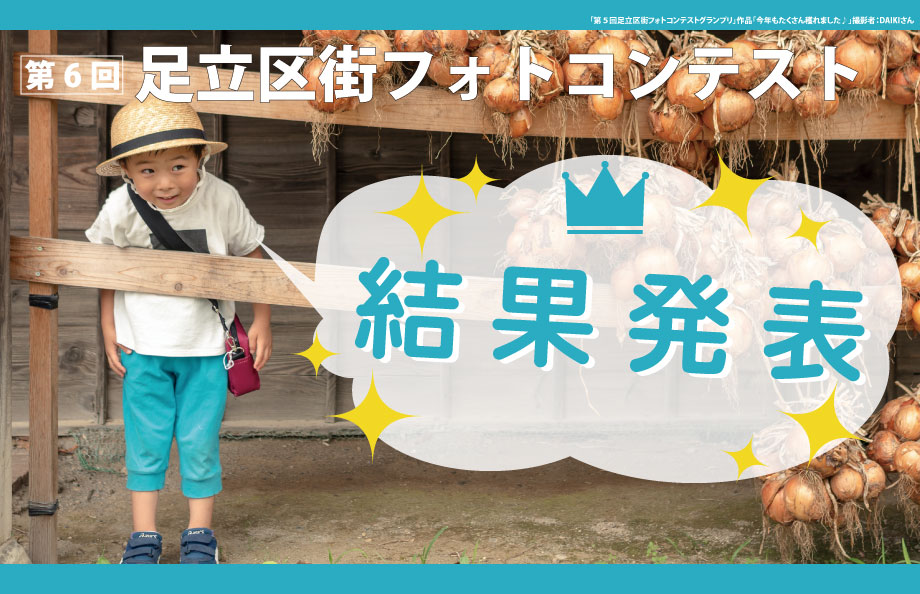 We are looking for photos of attractive scenery taken in Adachi City after January 1, 2021!
[Application period]
From Monday 1 November 2021, 10:00am to Monday 31 January 2022, 5:00pm (must arrive)

[Qualification requirements]
Anyone can post (Please get parental consent for junior high school students and younger)

[The number of application]
Up to 5 works per person

​ ​[About Application photo]
<Click here for application procedures and application rules>
The submitted work must be unpublished photographs taken by the applicant after 2021, and must be a photo that currently has the copyright and usage rights.
※ However, the work posted on the publication, HP or SNS, created by the applicant with no commercial purpose, can be applied.
* It will be invalid if you use the name of another person or quote another person's work.
* The work must be free of copyright, portrait rights and privacy. Applicants must obtain consent for any person included in the work. (If a junior high school student or younger is shown, parental consent is required).
* If you violate the application rules, you will be asked to cancel and return the prize, even if you are a prizewinner.
[Photo format and size]
JPEG format shot with a digital camera or smartphone and within 10 MB per work.
※ What is an extreme image processing in the digital (synthesis and modification, etc.) are not eligible to apply.
[Judging cooperator]
The All-Japan Association of Photographic Societies, Japan Photographers Association
Mr. Yasuo Ito, Advisor to the General Headquarters of The All-Japan Association of Photographic Societies 
Ms. Takako Mogaki, Member of Kanto Headquarters, The All-Japan Association of Photographic Societies
Ms. Seiko Mori, Executive Vice chairperson of JPA Exhibition, Japan Photographers Association
Mr. Hiromitsu Makishima, Japan Photographers Association
[Cooperation]
Adachi Seiwa Shinkin Bank
[Each prize]
① Selection by the judge (gift certificate)
Grand Prix (1 person) 30,000 yen / Second Prize (1 person) 20,000 yen / Special Prize (4 persons) 10,000 yen
② Voting by site visitors "Likes Ranking" (gift certificate)
1st place (1 person) 10,000 yen / 2nd place (1 person) 5,000 yen / 3rd place (1 person) 3,000 yen
③全応募者の中から抽選(6名)3千円…足立区ゆかりのステキな賞品をプレゼント!

※ The prize are unavoidably subject to change without notice.
[Application method]
① Click on the banner for the contest, please apply for a photo at the application site that is linked.
* It may take some time until it is made public after being posted.
(2) If you wish to apply using a recording medium such as a CD-R, please bring or mail it with the prescribed application form that will be distributed from November at the citizen office.
Nice works may be used for City PR and event posters!?
The works are used in various media such as leaflets, posters, booklets, and homepages that are created to convey the charm of Adachi City!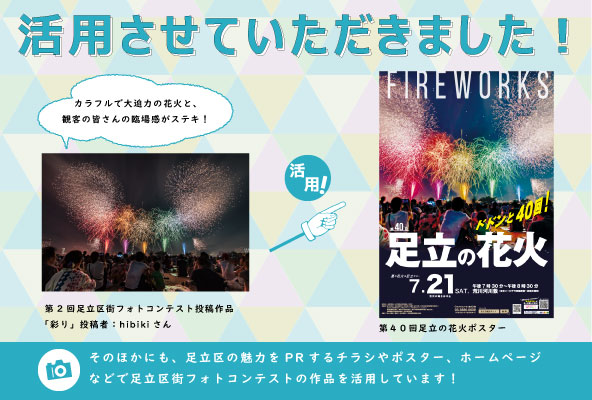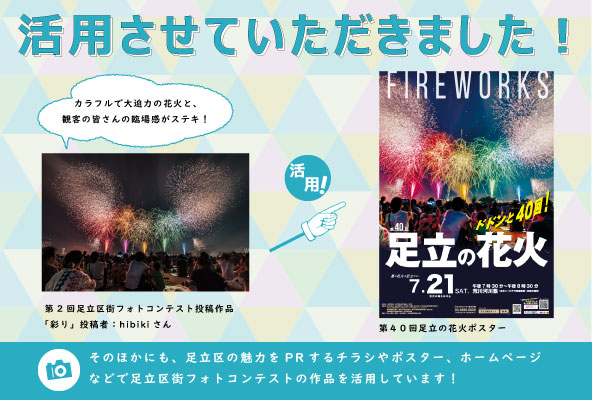 Other use cases
"Adawan Cinema College" publicity leaflet (published by Adachi City Press and Public Relations Section)
The 2021 Adachi City Main Facility Guide Map / Traffic Safety Guide Map (Published by Adachi City Press and Public Relations Section)
Adachi City Administrative Service guide (2021 Edition) (Published by: Adachi City Press and Public Relations Section)
Many others
Message from the judge!
We received a message from Mr. Yasuo Ito (Adviser to the general headquarters of AJAPS) who has been watching the work as a judge since the 1st Adachi City Photo Contest!
Adachi is a fascinating city for photo lovers.
There are roads and retro shopping streets that retain traces of the post town, and there are plenty of photo opportunities such as summer fireworks and park illuminations etc.
There was a picture of a boy looking through an onion drying rack in the last entries. 
It was a wonderful photograph with a strong imaginative power of expression, which made us imagine someone not in the photo in front of the boy's line of sight.
We're looking forward to seeing unique photographs this year as well.
Mr. Yasuo Ito, Advisor to the General Headquarters of The All-Japan Association of Photographic Societies
Last winning works
Grand Prix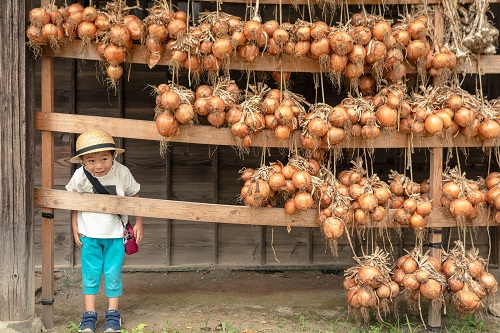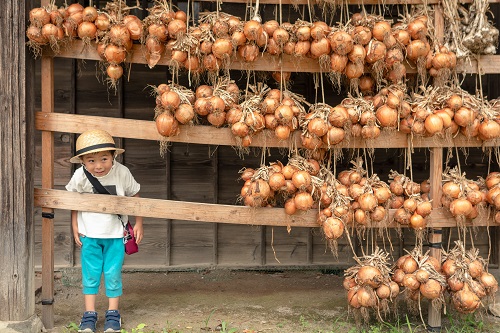 Semi-grand prix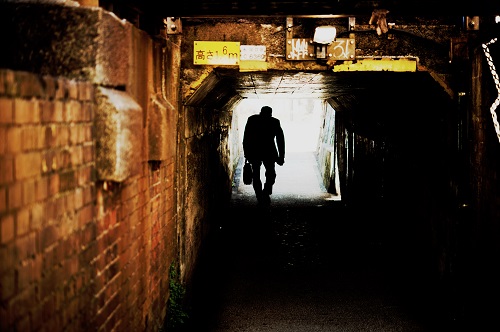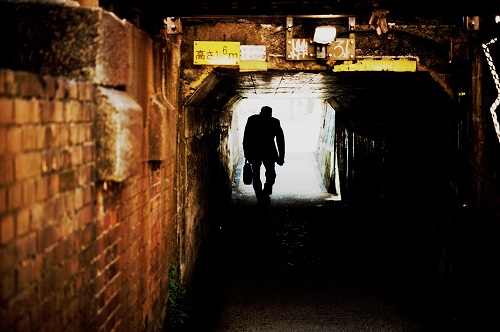 Special prize