The 40th Adachi fireworks
The 40th Adachi fireworks
The Adachi fireworks of FY2003 will be in full swingEnd.
Thank you very much for your visit.
​ ​It will be held on Saturday, July 21, ahead of the large fireworks festival in Tokyo!
This will be the 40th anniversary to commemorate, we will launch about 13,600 fireworks.
Look forward to the simultaneous launch of 400 fireworks just after the countdown and the new project "W Niagara"!




About the venue surroundings

Traffic regulation(Notice of vehicle closing)
On the day of fireworks the area around the venue will be closed to traffic. Thank you for your understanding and cooperation.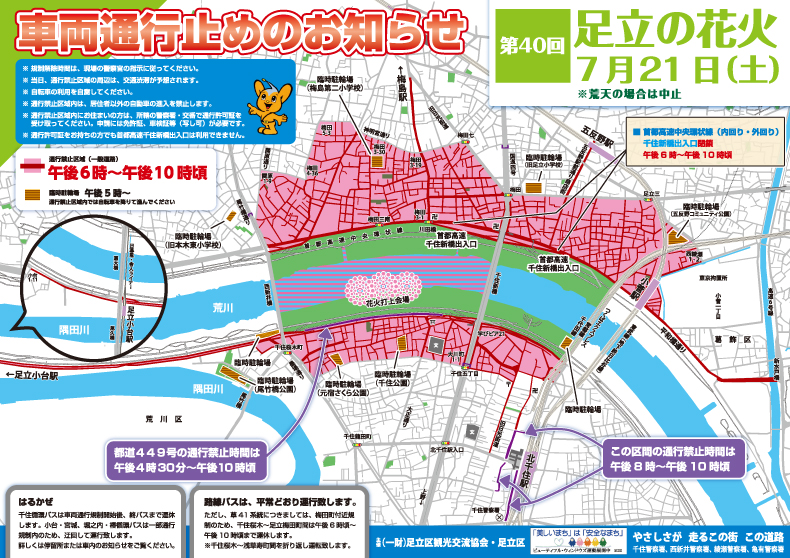 ■ Metropolitan Expressway Central Ring Line (Inner turn and Outer turn)
Closed Senju Shimbashi interchange
6 pm - 10 pm
■ Traffic-prohibited area (general road)
As shown in the above figure "Traffic-prohibited area"
From 6 pm to 10 pm (some areas will be banned from 4:30 pm)

In order to enjoy "Adachi fireworks" safely
About bans such as drone
Bringing in unmanned aerial vehicles (drone etc.) by remote control, steering, flight, shooting etc are criminal offenses against air law.
Do not hurt the river bed!
In the past, there was malicious place taking by marking with a spray etc.
Such an act is not only trouble other customers' troubles, it becomes a trouble in lawn damage and management of riverbeds, it is a crime which becomes a violation of river law.

* Remove places taken as violations, including the above, will be removed. Please note.
Do you launch fireworks even in the rain?
Fireworks tend to be weak against rain, but in fact there are other reasons why fireworks can not be launched.
① When windy wind (7 meters per second continues for more than 10 minutes).
② When weather warning is issued or there is a danger of lightning.
③ There is a danger of flooding the river or when the rainfall on the day before the Arakawa river rises a lot.
④ When safety can not be ensured.
If any of these four conditions apply, "Abandoned fireworks" will be canceled.
Why did not the deferrals disappear?
About 700 guards are engaged in "Adachi fireworks".
In recent years because of the lack of personnel in the security industry, security guards are decreasing and it is difficult to secure safety when postponing.
It corresponds to ④ of the condition that the fireworks can not be launched, so we lost the proceeding.
Adachi Fireworks Special Event, Firework Photographer, Mr. Takeshi Kanetake Special Interview "Attraction of Adachi Fireworks & Tips for Photographing Fireworks"
Adachi fireworks special project!
Mr. Takeshi Kanetake who is active as a fireworks photographer told the attraction of Adachi fireworks!
Also teach a petit technique to shoot fireworks beautifully at the venue with smartphone!
Look at Adachi fireworks, take pictures and have fun ♪