Tobu Health Hiking
This event has ended

June 4

-

June 5
Adachi Natsu Sanpo-Walking through a lively shopping street and Hanashobu-
A hike that comes and goes to Gotanno Station on Tobu Skytree Line in Adachi will be held.
This is a free-for-all hike, and you can enjoy it even if you participate on the day.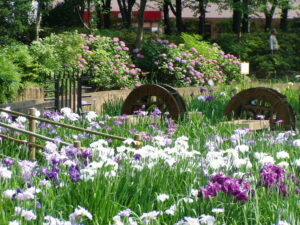 [Points of the hiking trail! ]
■ Point 1
It will be held at the best time of Hanashobu in "Shobunuma Park" set in the course.
On that day, there is a wooden path over the iris pond, so you can see the iris closely.
■ Point 2
You can enjoy walking around the area of Ayase, the vibrant city around the downtown district of Tokyo.
[Shobunuma Park]
Shobunuma Park is a place of relaxation for the citizens of Tokyo, where 8,100 irises of about 140 varieties bloom. In the five shobu fields surrounded by trees, various irises, mainly varieties called "Edo", compete for beauty. There are many attractions in the park, such as a waterfall with a height of about 4m.
Event details
【Event date】
June 4 (Sat) and June 5 (Sun), 2022
[Application]
Start reception hours: 9:30 am to 11:30 am
Start reception place: Adachi 1-chome Children's Amusement Park (4-min. walk from Tobu Skytree Line "Gotanno Station")
There is no goal reception, so we will place a two-dimensional code for the goal at the start reception.
[Course outline]
All the course: about 9.0km, Taking time: about 2 hours
■ Detailed course information
Gotanno Station → Adachi 1-chome Children's Amusement Park (reception) → Nishinomiya Inari Shrine → Gotanno Shinsui Green Road → Ayase Inari Shrine → Toritsu Higashi-Ayase Park Shobunuma Park → Rokucho-Kaheibashi → Aoiheiwa-dori Shopping Street → Gotanno Ekimae-dori Ginzakai → Gotanno Station (Goal)
Click here for event details (link to Tobu Health Hiking Site)
Contact Us
Tobu Railway Customer Center 03-5962-0102
Basic information
detail

Dates

June 4

-

June 5

Entry fee

Free

Website

Organizer

Organizer

Tobu Railway
Recommended events
Recommended spots