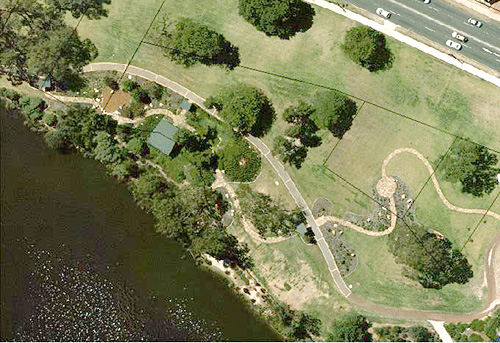 'Adachi Park' opened in 2004 inspired by Japanese garden design to commemorate the sister city relationship between the City of Belmont and Adachi City.
Belmont has mild winters without frost or snow, and hot dry summers with temperatures reaching as high as 45 ℃, making the climate unsuitable for growing moss or maple trees.Designing a Japanese garden in this environment required some creativity.
Australia also has strict regulations on importing foreign species to preserve their environment.Taking these circumstances into consideration, the garden was designed incorporating elements of Japanese style to symbolize the relationship between Adachi and Belmont.
Since the sun in Belmont is too strong for azaleas or rhododendrons, trees and shrubs endemic to Australia such as bottlebrush, crepe myrtle and pear were planted.Iris and sweet flag are popular in Australia too, but these were unsuitable for the delicate and complex eco -system of the Swan River.Sedge and daylily, which does not propagate easily, were chosen instead.
Buildings within the park are made of steel and other materials instead of wood for durability and ease of maintenance.Here again, though, the design was carefully chosen to reflect the relationship of the two cities.