Light Festival 2019
Festival of Light 2019Illumination lighting at Motofuchie ParkEnd.
Thank you very much for your visit.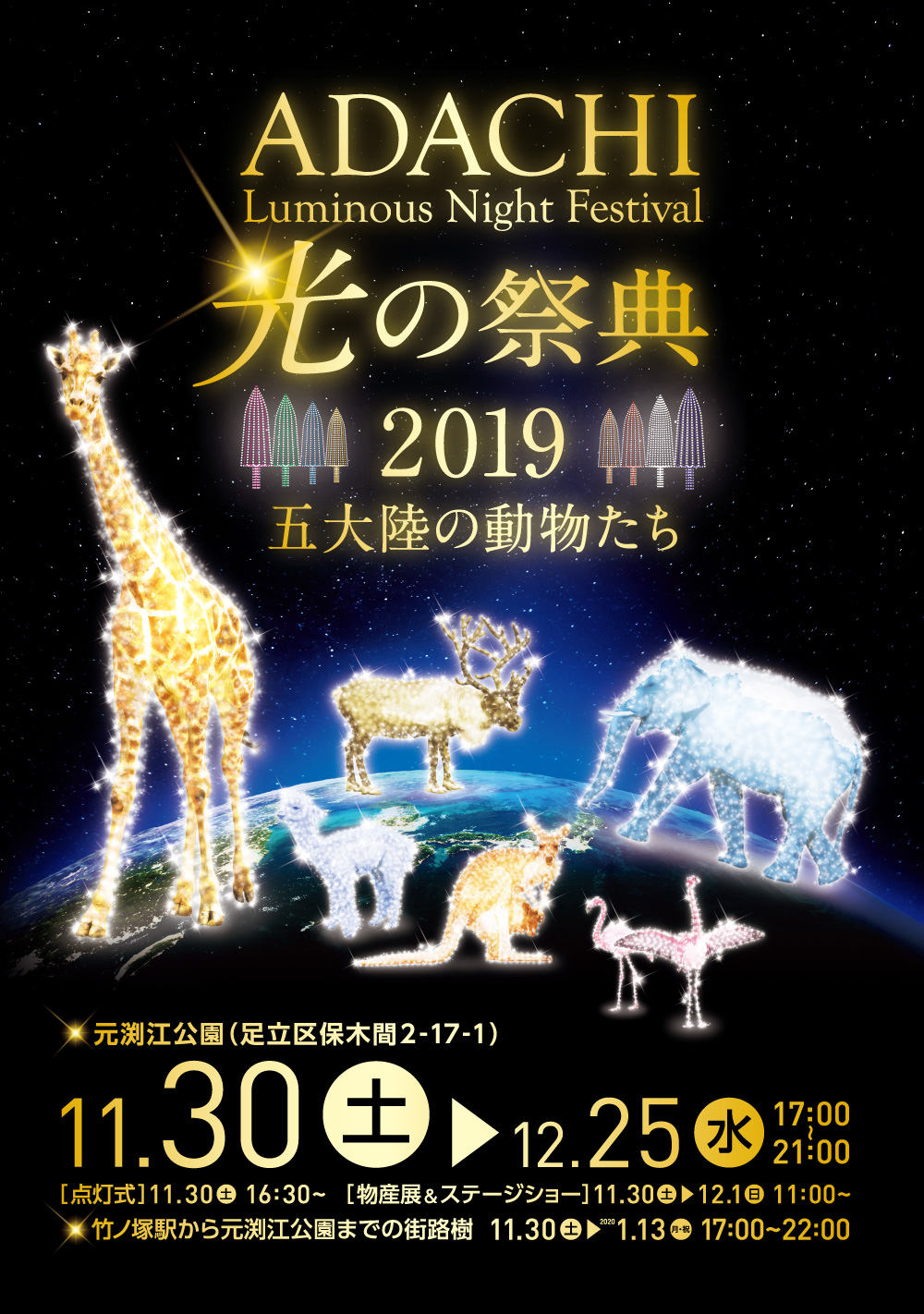 ~ Animals on the five continents ~
Take Kitan senju station from Tobu Sky Tree Line for 10 minutes, get off Takenotsuka station and there is a fantasy world of light.
Illuminations of about 850,000 balls are in the main venue, Motosu River Park,
Color Keyaki Boulevard connecting the park from Takenotsuka Station.
This year's theme is "Animals on the Five Continents".
Animals from each continent will greet you.
Let's go to see the brilliant animals colored by illuminations!
 Click here for this year's video ↓↓↓


November 30th (Saturday) and December 1st (Sunday) are full of opening events!
On stage, there are various attractions such as dance and brass band performances performed by groups working in the city, Willchair Rugby Demonstrations and Experiences, and special live performances of popular idols by J: COM Presents. This year, Mr. Kiso will appear as a moderator.
Please enjoy the local foods exhibition, local shopping streets, and the mock shops by the neighborhood associations and residents' associations.
* Vegetables sold directly by local farmers will be held on Saturday, November 30th.
Christmas Mini Live
Section mates are coming to Motosu River Park! Walk around the park while playing happily.
[Date of Christmas Mini Live]
December 21 (Sat.) and 22 (Sun.) 5pm-8pm (held several times in time)
A relieved breath while looking at the illumination.
How about a hot drink or food? Please enjoy a variety of menus of catering cars. The eight natural wood illuminations at the main venue are a popular spot with fantastic lighting shows with beam lights and music. Please have a look inside the warm "Hot Cafeteria".
【Relief cafeteria】
December 7 (Sat), 8 (Sun), 14 (Sat), 15 (Sun), 21 (Sat), 22 (Sun), 24 (Tue), 25 (Wed) afternoon From 5:00 to 8:30
Adachi Park of living things- Night special opening in Festival of light -
Limited time for light festival. After watching the illuminations, why not explore the nightlife garden? For more details, please visit the Adachi City Biopark homepage →→http://www.seibutuen.jp/
To all companies and organizations that support the "Light Festival 2019" (in no particular order)
Takenotsuka East Exit Shopping Street Promotion Association, Musset Co., Ltd., Tokyo Metropolitan Fruit and Vegetables Commercial Cooperative Kitadadachi Branch (Kita Adachi Market), Adachi Nariwa Credit Bank, J.com Tokyo Adachi, Sanyo Co., Ltd., Haseko Corporation, Nippi Co., Ltd., Todate Transport Co., Ltd., Tobu Railway Co., Ltd., Kanuma City Tourism and Products Association, Uonuma City Hall, Yamanouchi Town Hall

Information on merch of information of shopping district News!
Takenotsuka East Exit Shopping District Promotion Association
November 26 (Tue)-December 10 (Tue)
Phone: 03-3884-6870 / Moriya hardware store
"Light festival" sponsorsing sale! We hold a year-end sale won prizes totaling 2 million yen!
Fukuhiki is December6th (Friday)-10th (Tue) noon-5pm
Takeshinozuka Nishiguchi Ekimae Chuo Street Shopping Street Takeshinozuka Station West Exit Station Shopping Association
December 1 (Sun)-December 15 (Sun)
Phone: 03-3899-3315 / Friend cosmetics
"Gorgeous! Choose Gourmet Gift !!" mall gift certificates largess of
Customers in gratitude of one year, will be held the annual year-end lottery grand sale.
The lottery date is from December 13th (Friday) to 15th (Sunday) from 2pm to 6pm
Takenotsuka station square famous store association
December 1 (Sun)-December 15 (Sun)
Telephone: 03-3884-2311 / famous store society secretariat
You can win Hawaiian pair accommodation vouchers and gold vouchers that you can use at each store of the famous store association.


Lighting start date special events
December 21 (Sat) 10am-7pm
★ stage shows such as dance and performances
★ Workshop: Gourd Light, Gourd Doll, Herbarium, etc.
★ Gourd light illumination etc.
★ Simulated store
Illumination lighting period
December 21 (Sat) and 22 (Sun) 4:30 pm-10:00 pm
Let's put on everyone Lighting ceremony
December 21 (Sat) 4:30 pm-
Illuminating the Ayase station square with the illumination and the light of the psyllium. Let's make a beautiful illumination together.